By Ronald Joe Morovia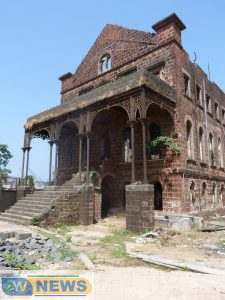 The old Fourah Bay College Building situated at Cline Town, East of Freetown is all set to be refurbished and restored following funds secured by the Monuments and Relics Commission through the Ministry Tourism and Cultural Affairs in collaboration with the World Monuments Fund.
The fund which was secured from the United States Ambassador's Fund for Cultural Preservation will see the restoration of the building, with the hope of protecting cultural landmark and heritage sites within the country.
Principal Project Director of the World Monument Fund, Stephen Battle said restoring the building is important, noting further that the University has a significant place in the history of Africa, being the oldest western style University in Africa.
He said the project is based on a Memorandum of Understanding with the Ministry of Tourism, signed in February, followed by stakeholders' engagement to involve community people and their expectations on project.
He continued that the validation and consultation workshop is to provide an opportunity for community people to verify some of their input into the project.
According to Battle, the project seeks to save the old building and ensure it is attractive.
Based on recent assessment of culture and heritage assists, there is a need for repairs and restoration of destroyed and lost sites within the country of which the old Fourah Bay College is among the places identified.
With roofs and floor worn out, the building is on the verge of collapsing posing a threat to visitors hence the need for the restoration. Following stakeholders' engagements, the implementing partners are now engaging communities and stakeholders to validate the plan restoration work.  
With work expected to commence sometime next year, the restoration seeks to preserve and at the same time improve on the structure as a memorial that should be touristic attractive.
Architect Aziza Chaouni noted that the design will among other things involve rehabilitation of the building, creating a library, cultural café, cultural interpretation and center.
Fourah Bay College is one of the oldest Universities in Africa and it holds a significant place in the history of not only Sierra Leone but the continent. The College was first hosted at Cline town before relocating to Mount Aureole. However, all what remains of the history of the college at its first location is a dilapidated structure that is about to fall.