Africa Young Voices (AYV) Media Empire and Trace Naija today jointly announce a major global partnership deal, further leveraging the historic special relationship between Nigeria and Sierra Leone; establishing a mutually beneficial partnership with a significant investment to create world class production, innovative contents and modern broadcasting.
AYV Media Empire – an international media institution based in Sierra Leone and Trace Naija – West-African entertainment, content and broadcast organization have entered into a partnership, which will see AYV and Trace Naija content aired across channels.
The purpose of the joint agreement is for AYV and Trace Naija to work together to invest financially and creatively in developing internationally competitive entertainment content with network and international potential.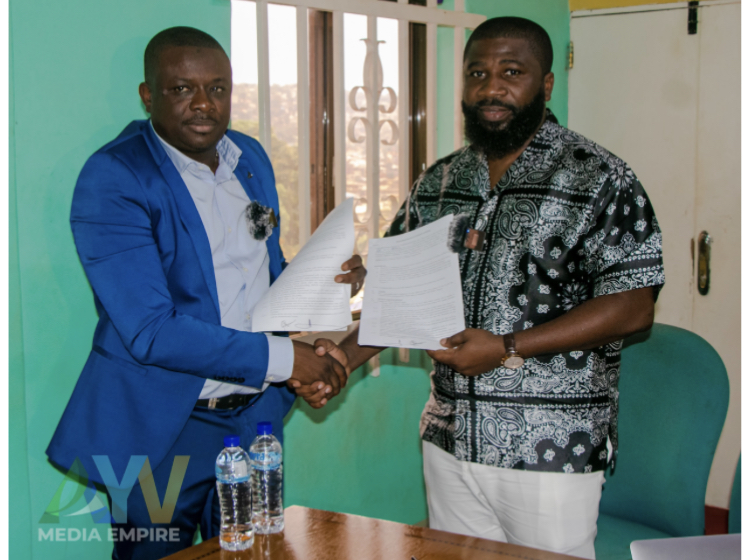 PHOTO: Amb. Anthony Navo Jr., CEO of AYV and Bassey Aniefiok, General Manager, Sales and Special Operations for Trace Anglophone West Africa
By combining both institutions' strong presence in traditional and digital media with cutting-edge technology and innovative content creation, AYV and Trace Naija will be able to provide a unique and immersive experience for audiences across the world.
Amb. Anthony Navo Jr.; CEO of AYV, said:
"Like Trace Naija, AYV is a tremendously powerful and influential media platform both in Sierra Leone and across Africa; home to world class media production, broadcasting and modern media facilities. The partnership between AYV and Trace Naija is unique in that it operates on a very broad scope and is mutually beneficial to both institutions. Our shared love of great African content has united us and together we will pursue new opportunities far beyond Africa. We are excited about the potential of this relationship."
"Sierra Leone has a rich and diverse music scene but, as in most neighboring countries, many Sierra Leonean artists struggle to reach a regional and international audience. Trace, working with our partners at AYV are looking to bridge the gap, creating an exchange with Naija and promoting the best that Sierra Leone has to offer." Opined Sam Onyemelukwe; Managing Director/Senior Vice President Global for Trace Anglophone West Africa.
This partnership will enable both institutions to create new and innovative content that will reach wider audiences and broaden AYV and Naija respective portfolios. Through this partnership, AYV and Trace Naija will continue to strengthen their leadership in the media industry in both countries.
The signing ceremony of partnership agreement in Freetown, anchored by AYV's Director of News and Current Affairs; Amadu Lamrana Bah brought together senior directors and representatives from both institutions including the General Manager, Sales and Special Operations for Trace Anglophone West Africa; Bassey Aniefiok from Nigeria and AYV's Chief Operating Officer; Messeh Leone who joined from AYV HQ in London.
ABOUT TRACE:
TRACE:
Launched in 2003 and originating from an iconic magazine, Trace has grown into an Afro-Urban cultural entertainment force with 350 million fans and a mission to empower and uplift young people globally. Trace media, digital, entertainment and education platforms are available in 162 countries and are segment leaders in Africa, Brazil, France, UK,
Caribbean and Indian Ocean. More about Trace: www.TRACE.COMPANY
ABOUT AYV:
Africa Young Voices (AYV) Media Empire: is a leading media company providing cutting-edge communication solutions. AYV operates three television channels, radio, newspaper, and a printing press. AYV also broadcasts on DStv Channel 399 in Sierra Leone and across Africa. AYV International is headquartered in London, United Kingdom with networks across the world including in Africa, Asia, Europe, Pacific, the Americas, and Caribbean. AYV has established a strategic partnership with the British Broadcasting Corporation (BBC), the world service programme in London. This partnership offers both AYV and the BBC a world – class broadcasting platform and resources for audiences across the world. More about: www.ayvnews.com