One of the aspirants for the Flagbearer for the All People's Congress (APC) Party for the 2023 elections, Dr. Mathew Wilson Samura Kamara has officially declared his intention to represent the Party as Presidential candidate in the June 2023 presidential election.
He made this declaration at the APC Regional Office in Makeni yesterday 12th February, 2023, with the theme: 'Build back Sierra Leone', where he promised to enhance this through improved cost of living for citizens, national cohesion and fighting corruption among other issues.
He said his aim is to build on the legacy of former President Dr. Ernest Bai Koroma and the foundation he laid for private sector led growth, economic transformation and infrastructural development.
Dr Samura Mathew Wilson Kamara was the Presidential Candidate for the APC party in the 2018 general Elections in Sierra Leone.
In Kamalo, Karene district to a mother from Kamalo, Sand Loko chiefdom and a father from Maworoko village around Gberray junction, Maforki chiefdom – Port Loko district, Dr. Samura Kamara was raised by his parents.
After working his way through secondary school at the UCC in Bo with the help of his parents, Samura Kamara moved to Freetown and attended the St Edwards Secondary School.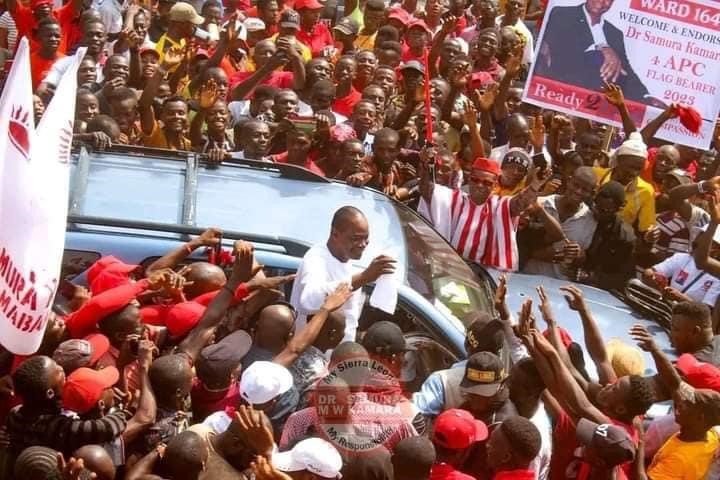 In Freetown Samura Kamara continued his higher education at Fourah Bay College (FBC) university of Sierra Leone. In University he attained a Bachelor's degree in Economics, MA in Political Economy, MSc in Economics, and a doctorate (PhD) in Development Economics from Bangor University, North Wales, United Kingdom.
Dr Samura Kamara was a very active football player during his Secondary School and university days.
Following completion of his PhD, Dr Samura Kamara prioritised working for institutions that have today strengthen his commitment to building a prosperous country for all Sierra Leoneans irrespective of religion, race, tribe, sex or where you come from.
Dr Samura Kamara joined the commonwealth, the Word Bank, IMF and became a top policy technocrat specialising in transforming the economies of underdeveloped and developing countries.
In 1994 he was appointed Program Manager for World Bank Structural Support Plan to Sierra Leone and served as Financial Secretary for the then government of Sierra Leone – responsible for managing bilateral and multilateral Overseas Development Assistance to Sierra Leone.
Dr Samura Kamara served as the Financial Secretary and Bank Governor of the Bank of Sierra Leone.
Under the leadership of former President Ernest Bai Koroma, Dr Samura Kamara was appointed Minister of Finance, and Minister of Foreign Affairs and International Cooperation respectively.
As Minister of Finance, he introduced rational exuberance into national monetary and fiscal policies, expanding the banking sector and making the financial system more inclusive.
Effective policy measures (the integrated financial management information system and the compulsory publication of the Auditor General's compiled report on the state of the economy) introduced by Dr Samura Kamara turned out to be pragmatic policies in relation to financial inclusion and accountability.
In October 2018, Dr Samura Kamara was Elected the Presidential Candidate for the APC Party in Sierra Leone, winning more support amongst NAC members of the Party.
Dr Samura Kamara's leadership at the Ministry of Finance and Foreign Affairs enhanced the capacity of those ministries to devise effective policies, and lead sustained and meaningful economic programmes – all while overseeing the biggest economic expansion with a 5.2% annual growth in GDP and real time increase in PPP.
Dr Samura Kamara is married to Elizabeth Massah Rogers-Kamara from Pujehun district, Southern Sierra Leone.